chelsea estate heritage park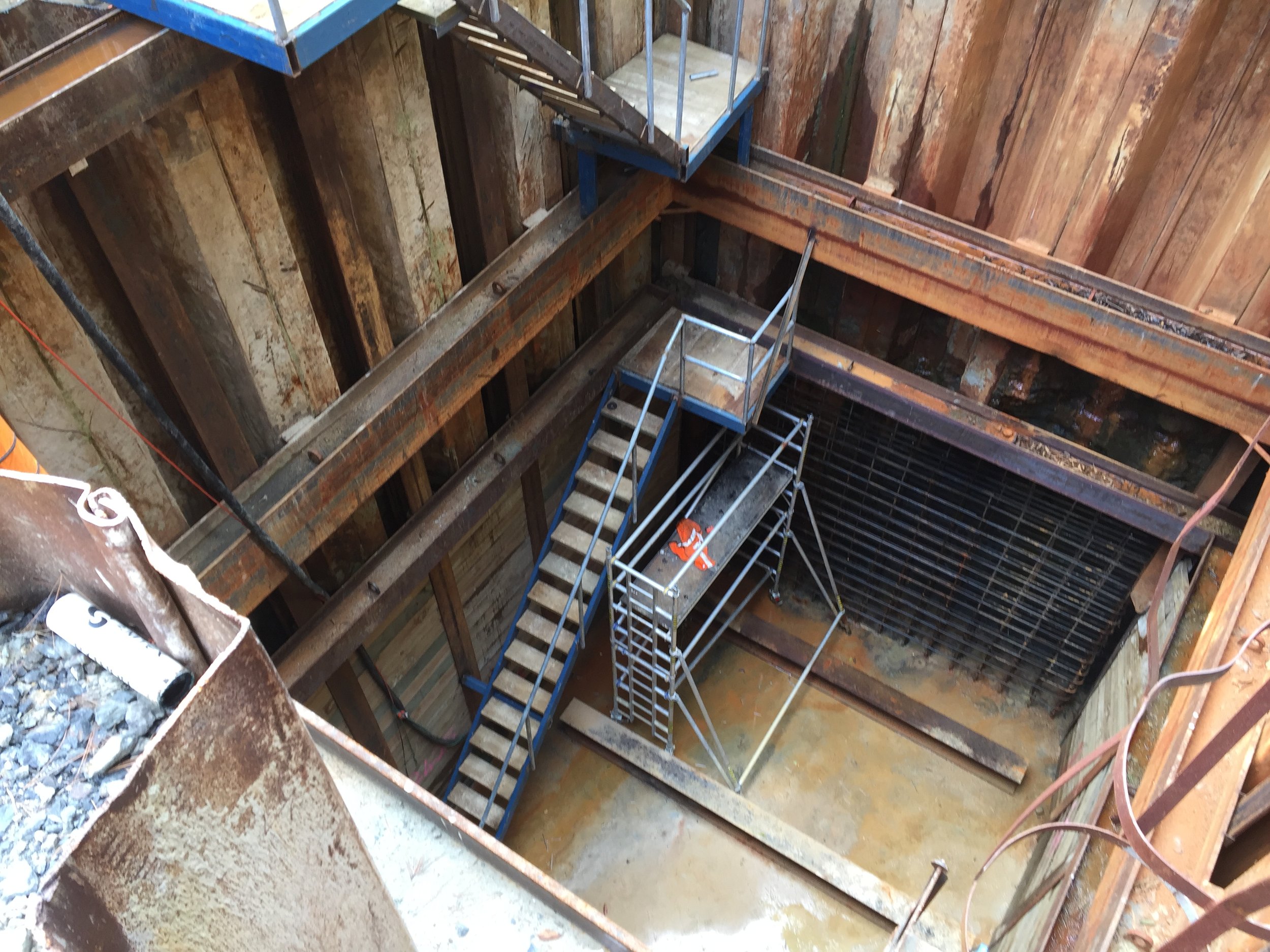 three large shafts to install over 600 metres of 2.1 metre diameter concrete pipe
ACH Consulting provided temporary works design as part of a large stormwater renewal located within the Chelsea Estate Heritage Park. Chelsea Estate, whilst home to the iconic Chelsea Sugar Refinery is also one of a handful of significant historic reserves owned and managed by Auckland Council, it represents the largest coastal park in the city and supports wetlands, native forest, grassy promenades and diverse fauna and flora.
For the stormwater renewal three large shafts were required in order to install 500 metres of 2.1 metre diameter concrete pipe. The method used for installing the pipe was pipe jacking which required large thrust blocks at the base of the shafts to provide a reaction for thrust forces of up to 600 Tonne. The Three shafts were constructed using both sheet piling and soldier piling methods, both methods utilised steel I sections to form ring beams which prevented the shafts from collapse. Many variables had to be considered in the design of the shafts including access, ground conditions and surcharge loads.
The ground conditions were a very important factor that was taken into account when designing the shafts. Soft soil conditions and the presence of an old landfill site within the work area meant that the thrust block detailing was especially important to ensure the thrust load could be adequately transferred into the surrounding ground. One shaft was located in particularly soft soils. To ensure that the full thrust load could be achieved, some of the force had to be transferred through the ring beams into the sheet piles.
One challenge that had to be overcome was the steep ground at one of the shaft locations. This made access and construction of the shafts difficult. A temporary working platform using soldier piles was created in order to give cranes and other machinery a stable platform to work off. With the deepest shaft sitting at approximately 12 metres below ground level, access into the shafts had to be considered. Temporary access stairs were designed to provide safe and easy access into the shafts. A davit arm mount was also designed and load tested to enable the contractor to efficiently transport materials in and out of the shafts.